Now and then, different companies claim to offer "strong and best quality cement" in their advertisements. There are numerous cement companies out there. As a customer, you should know how to discern the quality of cement. This article will briefly look into essential points of consideration that make cement best among the rest. 
Traits of High-Quality Cement
When buying cement for construction, the primary point of consideration is the price. Contrary to popular belief, the best quality cement is not always the most expensive one. The best cement for construction is not only good in terms of quality but also it is budget-friendly. It suits every need and wouldn't cost you an arm and a leg. 
There are more than 20 cement companies in Pakistan. When it comes to choosing the right cement company, the options are many. In the end, it all boils down to the performance. 
Flying Cement Price in Pakistan
| CEMENT | UNIT | PRICE (PKR) |
| --- | --- | --- |
| Flying Cement | 50kg Per Bag | 570 |
| Flying Cement (For Sindh only) | 50kg Per Bag | 585 |
A simple way to check the cement quality is to take a small quantity of cement and try to rub it between your fingers. If the texture feels smooth, then it indicates that the cement is of good quality. On the other hand, gritty texture means that an excessive quantity of sand is used, and the cement is not of high quality. A good-quality cement is always unadulterated. It doesn't contain other substances like sand in larger quantities. 
Flying Cement Standard Testing Report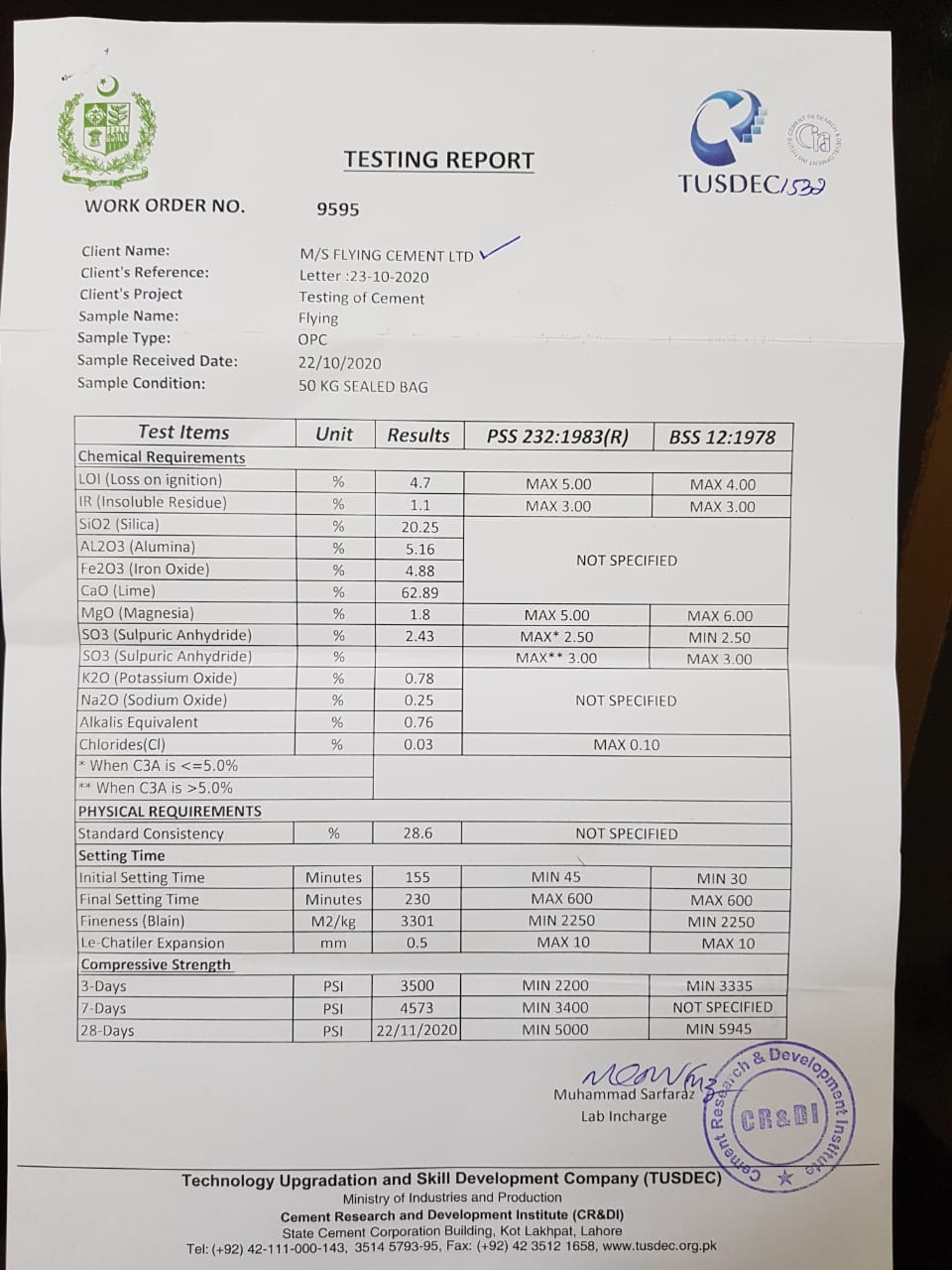 Another sign of good-quality cement is that the bag of cement feels cool and it is odorless. If the bag is warm or can smell a strong earthy smell, an excess quantity of clay is used, and the cement is unadulterated. 
Variety 
Variety is another determining factor that makes a cement company the best. Suppose the company offers a diverse product range. You can buy various types of cement from them which suits different purposes. In that case, this indicates that the company is worth giving a shot.
Availability 
When it comes to construction, always check the availability of the cement company before choosing one. The best cement company is the one that is readily available and convenient to buy in bulk. 
Proven track record
Quality construction material will not only come from a reputable company, but the chances are that it will also be the longest-running in the market. The material may have been extensively tested and improved until it achieved its best functionality and durability. Many real-life instances will back up the marketing claims of these longest-running companies, which you wouldn't get in case of choosing a cheaper alternative. Sub-standard options never offer a high level of consistency.
The Best Cement Company in Pakistan 
Keeping in view the points mentioned above, Flying Cement is one of the best cement companies available in Pakistan. Flying Cement has been there in the market since 1992. It is of the highest quality and one of the most affordable options available in the market. Above all, it is unadulterated. 
Buy High-Quality Cement Online
Choosing high-quality cement is a tedious process. It requires extensive research and endless efforts to stir clear from parasitic brands and money-grabbing intermediaries. But now you have to worry no more! Zarea.pk has made the buying of construction materials more accessible than ever before. Zarea.pk is among the pioneers of e-commerce in construction and building materials in Pakistan. It provides a one-stop solution to all your construction needs.
Say goodbye to all the haggling and nagging sellers! We provide premium quality assurance with a competitive market discount. We have all the top-notch companies on board, well-known for their high-quality construction materials in various categories.
You Can Easly Buy | Shop Online Construction Material Through Zarea.pk
Zarea.pk ensures that it provides high-end construction materials with unmatched quality.
 Our platform's construction materials have the best base materials, prepared from the most precise methods. The companies listed on our platform assert a high capacity for manufacturing. We ensure that each enlisted company has a standard compliance certificate that verifies the quality, quantity, and specifications of their construction materials. 
Now you can shop online all the high-quality construction materials in one go. You can also compare the daily prices of construction materials to analyze construction costs in Pakistan. Our rate list will give you insightful information that will cut short the tricky process of price comparison in the market.