In the world of construction, bricks play a pivotal role. The world's oldest brick was found in Southern Turkey, dated back to 7000 B.C. Today, you can find brick everywhere. From Times Square to some village in Pakistan, this world is made up of bricks. If cities are a jungle of concrete, then bricks are soil on which this jungle stands. These small block-shaped units of ancient technology have made some of the biggest architectural marvels of 21st-century reality.
With the advancement of technology, various forms of bricks have been innovated. Each type of brick has discerning properties and has distinct applications. Primarily, bricks were made up of clay. Known for their fire protection, moisture control, wind protection, bricks are quite durable in nature. 
There are six different types of bricks commonly used in the construction industry. These include burnt clay brick, fly ash clay brick, concrete brick, sand-lime brick, and engineering brick. We have discussed these types of bricks in one of our blogs as well.
 Given the nature of construction and specific requirements of architecture, it is important to understand the key differences in some commonly used building blocks 
(interchangeably known as bricks) to make the right choice. 
Zarea.pk is back with its insights and in this article, you are going to find out how AAC blocks differ from standard clay bricks and which one to choose. Without further ado, let us explore! 
AAC Blocks vs. Clay bricks 
AAC stands for Autoclave Aerated Concrete. It is made up of cement, lime, gypsum, fly ash and water. When it comes to the size of AAC blocks, they are eight times bigger in size than a standard brick. 
As compared to clay brick it is lightweight. One of the reasons why AAC blocks got all their hype is that it is much more energy-efficient to produce them. AAC blocks are environmentally friendly.
Lesser amounts of raw material is consumed during its production. AAC blocks require only a few steps for manufacturing. Unlike clay brick, no pre-wetting process is required during the brickwork. Some of the properties that make AAC blocks highly sought-after are as following:
Light-weight 

Load-bearing 

Good insulator 

Good thermal characteristics

Acoustic 

Emits less heat 

Minimum material wastage 
AAC blocks are used for producing concrete masonry units (CMU). These blocks are produced in an autoclave where they undergo the process of curing. AAC blocks were invented during the 1920s. It is important to note that AAC is present in different forms including blocks, cladding, and floor/roof panels.
Moving back to AAC blocks, they are suitable for both interior and exterior construction. They can be coated, painted or plastered as well, which provides an extra layer of protection from external agents. Often, they are also covered with siding materials such as vinyl siding or brick veneer. Another advantage of AAC blocks is that they are easy to install. It is easy to cut them in various sizes with carbon steel cutters. They can also be routed and sanded.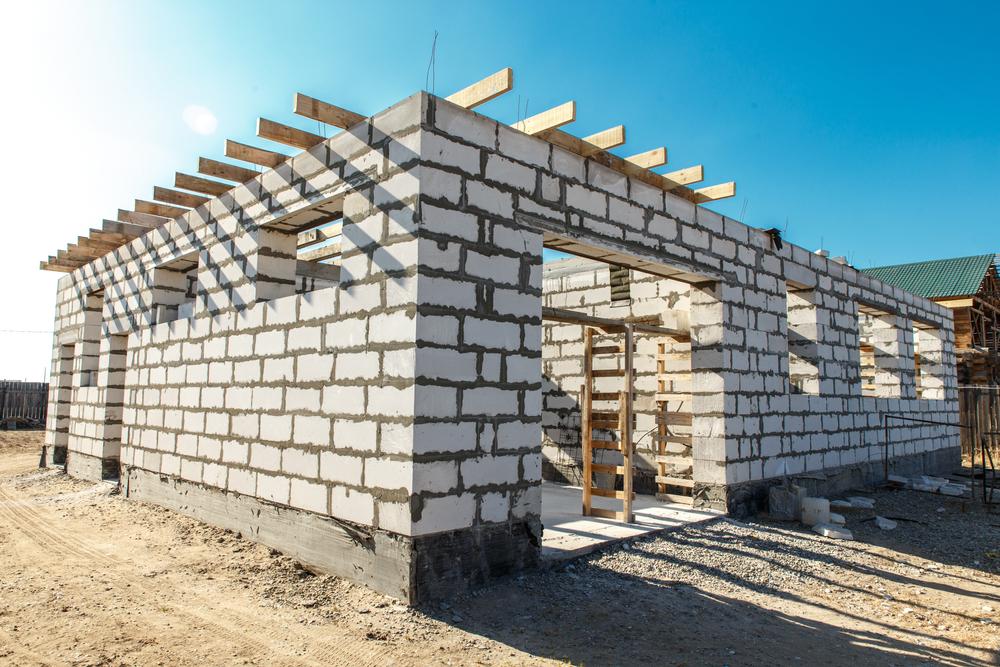 Owing to its good thermal characteristics, AAC blocks or other materials are usually used in high-rise buildings where there is a high-temperature variation. As mentioned earlier, there is lesser material wastage with AAC blocks. A not only lesser amount of mortar is required due to less number of joints in AAC blocks but also less steel and concrete is used. AAC blocks have high dimensional accuracy. Due to this reason, rendering materials are also required in lesser amounts. AAC is time-efficient and cost-efficient. It eliminates the need to use separate construction materials for insulation. 
For AAC blocks, the mortar used is a thin-bed mortar. Standard cement mortar can also be used but the thin-bed mortar is far more suitable because it has a thickness of 3.2 millimeters. The biggest difference between AAC and other concrete applications is that no larger aggregate is used other than sand. Other components such as water and gypsum are binding agents. 
However, AAC blocks do have their disadvantages as well which are as following: 
AAC blocks can crack after installation. This can cause problems, especially during rainy weather. However, this can be avoided by ensuring that they are in dry condition during installation. This can also be achieved by minimizing the strength of mortar.

AAC blocks are brittle in nature. This is why they need proper handling. 
Clay bricks are one of the oldest known building materials. Just like other types of building blocks, clay bricks are resistant and durable. They are made up of a mixture of water and clay. Different methods are used to harden this mixture. Sun-drying and oven-drying are quite common. 
One of the many properties of clay bricks is that they undergo expansion or contraction as the moisture content increases or decreases. When they absorb water and vapor from the atmosphere, they undergo an irreversible expansion. However, this expansion decreases as the brick ages.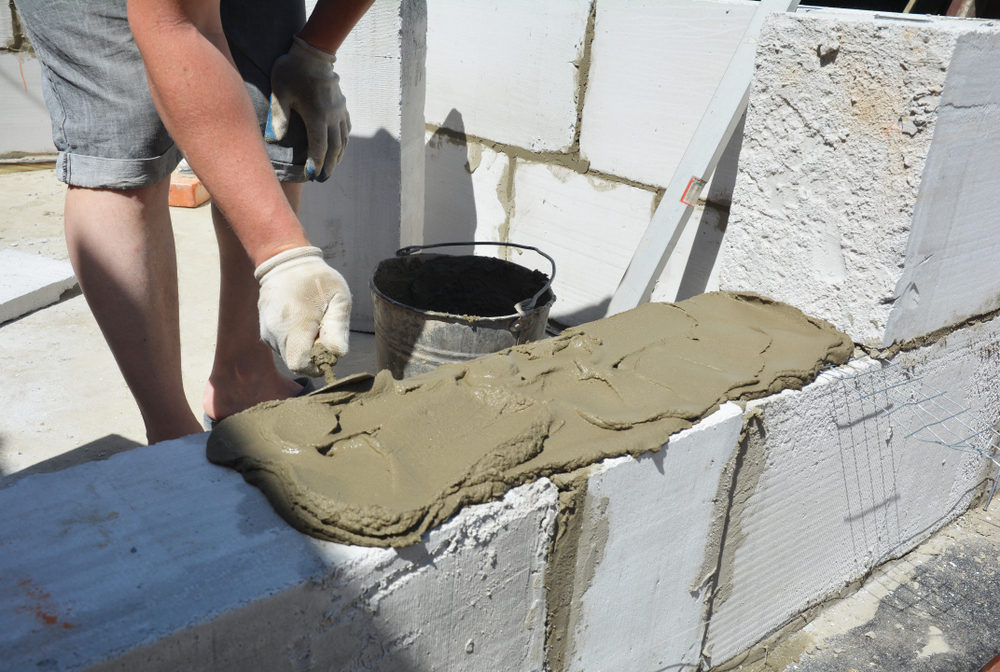 Just like AAC material can have different forms such as blocked, clay bricks are also of different types. Some of the common types of clay bricks include:
Burnt clay brick 
Burnt clay brick is the most common type of brick used in the construction industry.
The clay is either dry-pressed or molded and then it is fired in a kiln, hence the name burnt clay. This type of brick is sub-classified into different classes naming, the class first, second, third, and fourth. This sub-classification is based on the appearance and strength of the brick. The widely used Awwal category bricks used in the construction industry is a subcategory of burnt clay bricks. Other subcategories of burnt clay bricks are known as Doum and Khangar bricks. 
Fly ash brick 
As the name suggests, this type of brick constitutes fly ash and fired clay. Fly ash bricks are less porous. They exhibit a lower level of water penetration. Fly ash bricks are known for "self-cementing". Fly ash bricks also have fire isolation properties. When exposed to moisture, fire clay bricks expand easily. One of the biggest advantages of using fire clay bricks in construction is the ease of its use due to its light-weight. You Can Check the Latest Fly Ash Bricks Prices  in 2021
Sand lime bricks 
As obvious as it may sound, sand-lime bricks are made up of sand, lime, and clay. They are also known as calcium silicate bricks. The advantages of sand-lime brick include superior load-bearing capacity, uniform color and texture, smooth finish, acoustic insulation, and good fire resistance. The common application of sand-lime bricks are pillars, walls, and ornamental purposes. 
One of the biggest differences between AAC blocks and clay bricks is their level of accessibility. AAC blocks are manufactured in specialized factories only. On the other hand, given the nature of its materials, clay brick is readily available. However, clay bricks have less compressive strength when compared to AAC blocks. 
Due to its high level of water absorption, the utilization of clay bricks becomes limited. Clay bricks offer fire resistance up to 3 hours while AAC blocks give fire resistance up to 7 hours. Clay bricks are not pest-resistant. On the other hand, AAC blocks are made up of inorganic materials which makes them pest resistant. 
Clay bricks also require more intensive labor for installation when compared to AAC blocks. Choosing AAC block over clay brick can significantly cut down the costs as described earlier. Almost 25 kg of topsoil is consumed with a single sq.ft. walling of clay bricks. They are not very environmentally friendly. 
Who's the winner? 
Clay bricks are more suitable for small-scale projects while AAC blocks are a better fit for mega and commercial projects like high-rise buildings. The performance benefits of AAC blocks are clear cut. 
To learn more about AAC blocks, bricks, construction material prices, and to stay up-to-date about the construction industry, visit Zarea.pk blog is the best construction blog in Pakistan. 
Zarea.pk ensures that it provides high-end construction materials with unmatched quality. Our online platform's construction materials have the best base materials prepared from the most precise methods. The companies we have onboard asserted a high capacity of manufacturing. We ensure that each enlisted company has a standard compliance certificate that verifies the quality, quantity, and specifications of their construction materials. This is why you will find the construction materials at Zarea.pk are from top-notch brands. 
Now you can shop online all the high-quality construction materials in one go. Our rate list will give you insightful information that will cut short the tricky process of price comparison in the market.
For the first time in Pakistan, Zarea.pk is offering digital payment solutions for the online buying of construction materials. You can not only browse numerous options for construction materials at Zarea.pk but can also get all the materials delivered to your doorstep. With the technical expertise of Zarea.pk procurement of construction materials doesn't seem like a complicated process anymore. You can also compare the Latest construction material prices in Pakistan at Zarea.pk.